Dylan Hall Head Boy 2018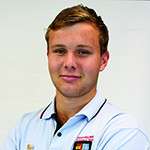 As the Head Prefect of Gisborne Boys' High School in 2018, I am privileged to be a part of a brotherhood built on the foundation of our key values. An involved school community where success is encouraged and displayed within the academic, sporting and cultural areas.
Nopera Rangiuia - Lindup

I have been a member of the debating and theatre sports teams for the past two years and am privileged to have had the opportunity to travel for inter-school debating and cultural super 8 competitions. I have also represented Gisborne Boys' High School in rowing and cross country
Conor Robertson

With the support and guidance of the Careers department, I have been able to plan and set goals towards becoming an architectural engineer. The knowledge and skills taught within the Calculus and DVC classes has given me the confidence and encouragement to fulfill my ambition. Year 13
Mairangi Campbell

I have been fortunate to travel and represent Gisborne Boys' High at the Waka Ama Nationals where we won three gold medals. Being streamed in A1 allows me to learn in a class environment where the tasks are targeted at my level and my peers are of similar ability. This enabled me to prepare and represent my House in the Speech Competition. Year
Ethan Hannah

Attending Gisborne Boys' High School has enabled me to continue my love of music. The staff and instrument specialists allow us to fine tune and extend our skill base within a supportive environment. Placing 1st and 2nd in the annual Rock Quest for the past 4 years has been amazing. Year 12
Nathaniel Hauiti

Having played rugby at Tolaga Bay Area School, the decision to enrol at Gisborne Boys' High School was easy. To be the best you have to challenge yourself against the best. As a member of the U15 Colts I aim to make the 1st XV at senior level and one day realise my dream of becoming a professional rugby player. Year 9
Manawa Randall

It's been a blast at this school. The school is rich in values and the classes are fun. Sometimes our principal sings to us in assembly and other times teachers play handball with us during morning tea. Everyone's really positive. Year 9.
Jimmy Somerton

Enrolling at Gisborne Boys' High was the right choice for me. Early in the year I was encouraged by teachers to represent the school for junior high jump at the ECNI Athletics Championships where I placed 1st. In September our junior football team will be competing against the best junior football teams in NZ which I'm looking forward to. Year 9
Gisborne Boys' High School has helped me to step out of my comfort zone and get involved in many different activities that are on offer. Hockey, Volleyball, Nga

Gisborne Boys' High School has helped me to step out of my comfort zone and get involved in many different activities that are on offer. Hockey, Volleyball, Nga Manu Korero, Mountain Biking and Choir are just a few of the opportunities that I have taken. Year 10